Why travelers trust Trekker Essential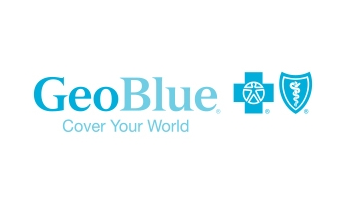 Designed for year-round peace of mind for people who love to travel. Coverage for unlimited international trips in a 12 month period (70 days max. per trip) $500,000 medical / $250,000 evacuation. Available to residents of certain U.S. states. Issued up to age 94. To be eligible for this plan, you must be enrolled in a primary health plan.
What does GeoBlue Trekker Essential include? If at any point you have any questions give us a call today and let us help you find the right travel insurance for you.
$250,000 medical evacuation benefit
Up to $500,000 for sickness and accidents
Hospital care, surgery, office visits, prescription drugs and more
Unlimited trips in a 12 month period (70 days max. per trip)
Covers pre-existing conditions for medical services and medical evacuation
An emergency medical evacuation from overseas can easily cost upwards of $100,000 or more. Many domestic health plans do include some foreign medical emergency travel benefits however coverage may be limited, include heavy copays or deductibles, and may not pay for emergency medical transportation.

Example: A Medicare Supplement plan that includes Foreign Medical Emergency benefits provides a $50,000 lifetime maximum benefit and provides reimbursement of 80% of your foreign emergency medical expenses. There is also a $250 deductible per occurrence. That is simply not enough coverage.

That's why this is the perfect plan for those who have reached the age where they now have the time to travel. Whether you are knocking out two, three, four or more destinations a year off of your bucket list or you just want the peace of mind in knowing you have year round travel emergency coverage, you won't find a better value than GeoBlue Trekker Essential
Trekker Essential Special Features:
Pre-existing medical conditions are not excluded
Deductible waived if GeoBlue international physician network is utilized
Cashless access to pre-selected doctors in more than 150 countries
Online toll free access to GeoBlue drug translation guide
Legal assistance and emergency cash advancements
Destination specific health information available for 200+ cities outside the U.S.
Post Departure Trip Interruption quarantine benefit for lodging & incidentals. $25/day for up to 10 days
Security profiles including crime and terrorism risk for 180 countries
---
Trekker Essential plan benefits
Emergency Medical
Maximum Benefit per Trip Period

$500,000

Deductible
Deductible is waived if services are provided by a GeoBlue International Health Care Community facility.

$200

Emergency Medical Evacuation
Deductible is not applicable. Maximum Benefit per Trip Period

$250,000
Professional Services
a. Surgery, anesthesia, radiation therapy, in-hospital doctor visits, diagnostic X-ray and lab
b. Office Visits: including X-rays and lab work billed by the attending physician.
The Insurer will pay 100% of the Reasonable Charges up to a maximum as stated on the Insured Person's Declaration page.
Inpatient Hospital Services:
a. Surgery, X-rays, In-hospital doctor visits
b. In-patient medical emergency
The Insurer will pay 100% of the Reasonable Charges up to a maximum as stated on the Insured Person's Declaration page

Ambulatory Surgical Center
The Insurer will pay 100% of the Reasonable Charges up to a maximum as stated on the Insured Person's Declaration page
Ambulance Service (non Medical Evacuation)
100% up to $1,000 Maximum per Trip Period
Benefits for claims resulting from:

downhill (alpine) skiing
scuba diving (certification by the Professional Association of Diving Instructors (PADI) or the National Association of Underwater Instructors (NAUI) required or diving under the supervision of a certified instructor)


Reasonable Charges limited to the Trip Period Maximum up to $10,000 whichever is less
Outside the U.S. Outpatient prescription drugs
50% of Reasonable Charges up to $5,000 Maximum per Trip Period
Dental Care required due to an Injury
100% of Reasonable Charges with a maximum benefit of $200 per Trip Period
Dental Care for Relief of Pain
100% of Covered Expenses up to $100 maximum per Trip Period
Physical and/or Occupational Therapy/Medicine, including spinal maniputlations and other specified therapies including acupuncture
Maximum payment of $100 per visit and maximum of 6 visits per Period of Insurance
Services provided in addition to the benefits above
GeoBlue Global Health and Security Services
Access to contracted doctors in more than 180 countries
Access to worldwide security information in more than 166 countries and 245 cities
Online doctor search with more than 4,200 contracted physicians.
Access to Drug Translation Guide
Health and security news alerts
Provided through the GeoBlue Travelers Club
Ten Day Money Back Guarantee
YOUR SATISFACTION IS GUARANTEED. We are so confident in our products that we offer the best guarantee in the business! If you are not completely satisfied with our GeoBlue Trekker Essential Product, simply return your Certificate of Insurance and your ID Card to GeoBlue within 10 days of receipt and include a letter indicating your desire to cancel. If you have not already left for your trip before the date of your letter, you will receive a full refund.
| | |
| --- | --- |
| Policy Maximums | Insurer pays Per Insured Person |
| First Level Payment | The Insurer will pay 100% of the Reasonable Charges up to a maximum benefit as stated on the Insured Person's Declaration page |
| Accidental Death And Dismemberment | Maximum Benefit: Principle Sum up to $25,000 |
| Repatriation Of Remains | Deductible is not applicable. Maximum Benefit up to $25,000 |
| Bedside Visit | Deductible is not applicable. Maximum Benefit per Trip Period up to $1,500 for the cost of one economy round-trip air fare ticket to, and the hotel accommodations in, the place of the Hospital Confinement for one (1) person |
Eligibility information about this plan
Available to U.S. residents (Not available to residents of New York state and Washington state)
Under Age 95
Enrolled in a Primary Plan
For children under age 6, must be enrolled with a parent
Initial purchase must be made in home country prior to departing on trip
(Medicaid and Veterans Administration health benefit plans are not considered a primary plan under this policy)