Why travelers trust Annual Membership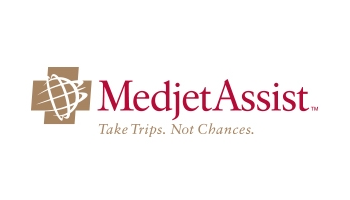 We are very sorry, but due to legislation passed during the 2019 Wyoming Legislative Session, Medjet is no longer able to accept new or renew current members in the State of Wyoming.
For any questions concerning this, please contact The State of Wyoming, Department of Insurance at (307) 777-7401
MedjetAssist® is the premier air medical transport membership program for travelers. If you are hospitalized 150 miles or more from home, Medjet will arrange air medical transport all the way back to your hospital of choice in your home country - regardless of medical necessity. Available to U.S. residents.
MedjetAssist is a domestic and global air-medical transport membership program in the U.S. If a Medjet member becomes hospitalized more than 150 miles from home and meets transport criteria, Medjet will arrange medical transport to the hospital of their choice within their home country at no additional cost. All the member pays is their membership fee.

About 75 percent of such flights are made aboard private air ambulances. The rest are aboard commercial flights in premium seats with medical attendants along.

Most Medjet customers select annual memberships, which begin at $315 for an individual and $425 for a family.
---
Annual Membership plan benefits
Worldwide Air-Medical Transport: When a member becomes hospitalized as an inpatient due to an illness or injury while traveling 150 miles or more from home, Medjet will arrange air medical transport services to the hospital of the member's choice in their home country.
Medical Referrals: Medjet representatives can provide contact information for doctors and the hospital in the area in which the member is traveling. Whenever possible, medical providers will be able to speak the same language as the member. Telephone interpretation can also be provided when necessary. (The selection and payment of the doctor are the responsibility of the member.)
Medical Monitoring/Consultation: As soon as Medjet is notified of a member's medical situation, the medical staff will establish communication with both the family and the local attending medical provider, obtain a full understanding of the situation and begin to monitor the member's condition. Medical professionals will stay in communication with the local medical personnel and relay necessary information to the member and his or her family or employer until the situation is resolved and the member is either able to resume travel or an air medical transport is initiated
Telephone Interpretation: Members can receive assistance with foreign language interpretation over the telephone when they are having difficulty communicating with local medical specialists by calling the MedjetAssist toll free number or calling collect from anywhere in the world.
Emergency Message Relay: Members may send and receive emergency messages to and from relatives, friends and business associates toll free, 24 hours a day, through the Medjet staff.
Legal Referrals: Medjet provides contact information for certified attorneys in the area in
which the member is traveling. Whenever possible, the attorney will be able to speak in the same language as the member.
(The selection and payment of the attorney are the responsibility of the member.)
Visa, Passport & Immunization Requirements: MedjetAssist provides visa, passport and immunization requirements for foreign countries in which members will be traveling. For an additional cost, members may also receive services such as expedited replacement of lost or stolen visas and passports.
Travel, Health & Safety Precautions: In addition to providing travel, health and safety precautions for international destinations, members may also receive comprehensive pre-travel medical consultations.
Transport of Mortal Remains: In the unfortunate event of a member's death while traveling 150 miles or more from home, Medjet will arrange and pay for all necessary government authorization, provide a container appropriate for transportation, and return the remains to the member's place of residence for burial.
24 Hour Members Assistance: To discuss a problem or course of action, members can call MedjetAssist collect or use the toll free number 24 hours a day.

Members are provided with a list of special AT&T USA Direct access numbers in order to access the toll free number when visiting one of the countries listed on the directory. Medical, Legal, Personal and Special Services are available whenever an Assistance Member is traveling 150 miles or more from his or her permanent residence as listed on the enrollment form. Travel assistance information or referrals are available prior to departure or during a trip. MedjetAssist corporate offices and assistance center is located in Birmingham, Alabama, USA.
Eligibility information about this plan
Citizenship: All nationalities
Residency: US, Canada, and Mexico residents or expatriates
Not available to Residents of Wyoming
Travel periods listed (90) are for consecutive days of travel outside of your home country.
Ages: 0-74
Ages: 75 - 85
Annual Membership plan costs
Plan Type
Individual
Family
For trips up to 90 days
(Annual)
$315.00
$425.00
*All values in US dollars
This plan can only cover a primary traveler, spouse and dependent children up to age 18 (or 22 if currently in college) on one policy.
Quote & Buy